Build Your Personal Brand Statement & Strategy
In today's climate, a personal brand is no longer optional.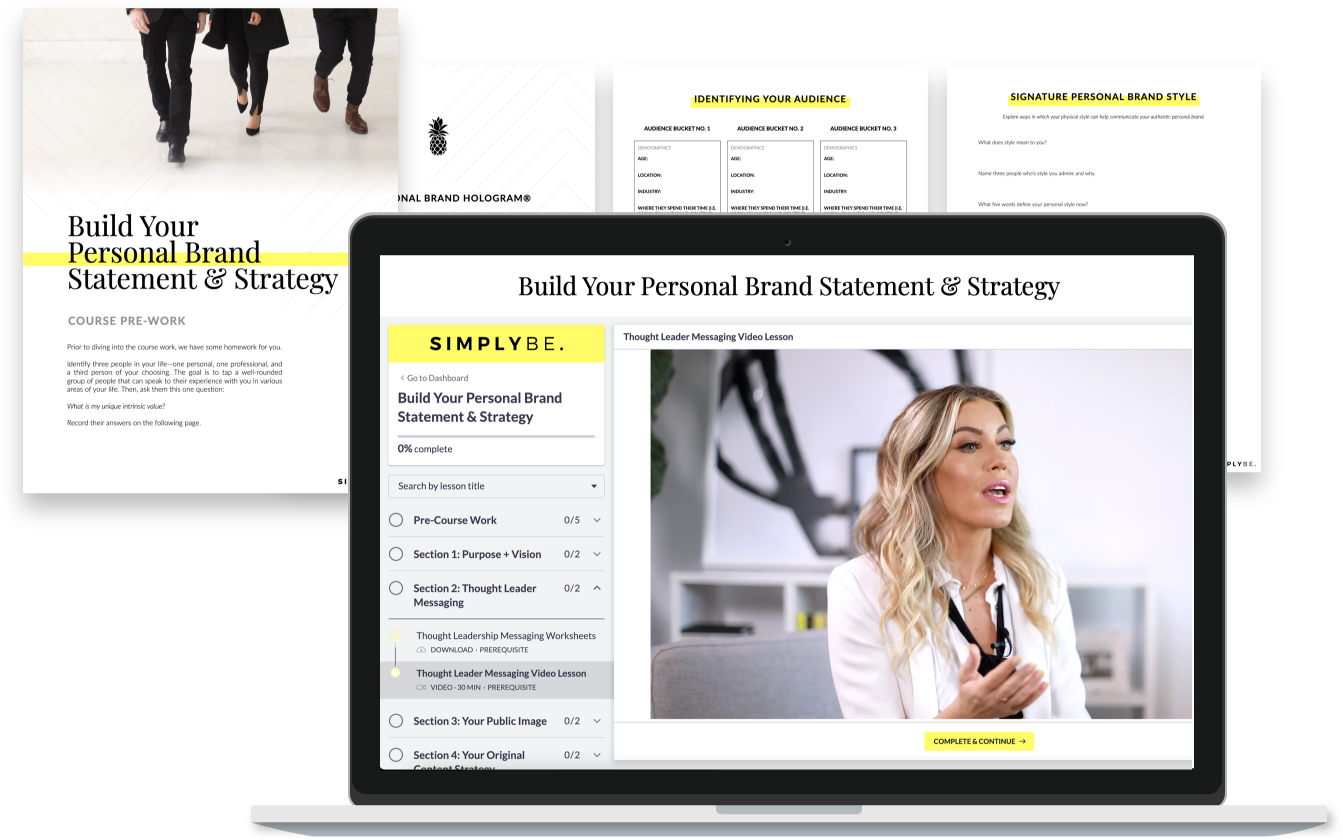 Whether you're:
climbing the corporate ladder
pitching new business
seeking referrals
raising money
recruiting top tier talent
looking to gain market share
striving to make a difference
or simply looking to gain an edge against your competition…
The fastest, and easiest, way to create an impact is through a strong personal brand.
Build yours on your own time, on your own terms, through SimplyBe.'s all new digital experience, Build Your Personal Brand Statement & Strategy.
Build your brand
Through a combination of masterful videos, worksheets and exclusive personal branding materials, Build Your Personal Brand Statement & Strategy will provide you with all the components a true leader needs to create a unique, authentic, impactful platform and a super-charged personal brand strategy—but often doesn't take the time to develop.
Buckle up and get ready for an innovative and inspirational experience sure to not only change the course of your career, but also the lives of all those you touch.
Because YOU are a thought leader. And your personal brand statement is your beacon to galvanize your audiences and make a true impact.
Build your brand
You'll also gain access to:

Five comprehensive video modules led by our Founder & CEO that dive deep into how to build an authentic personal brand

A curated library of bonus resources including fireside chats with industry experts, additional masterclasses, access to exclusive podcasts, and more

A comprehensive, actionable workbook that allows you to activate the topics covered in the course videos and tangibly build your brand

Our signature Social Media Playbooks to take you from novice to expert on LinkedIn, Twitter, Instagram, Facebook, and TikTok—today's top channels
We've broken it down into 5 modules that you can complete at your own pace. Each section contains an in-depth instructional video and accompanying worksheets to help you solidify and implement the course content as you go for maximum impact. The best part? You'll gain instant access to the course and bonuses when you sign up so you can dive right in. Your purchase gives you 6 months of unlimited access to our platform!
Purpose + Vision
Lay the foundation for everything else.
Identify the ultimate aim of why you're in the seat of thought leadership in the first place, and build from it. We'll help you get this right through tried and true frameworks so you can build an impactful personal brand statement that sets you apart, but that is also 100% authentic to you.
In this module you will:
Dive deep to redefine your purpose and craft your leadership vision using the SimplyBe. framework, "The Vision Equation™"

Identify your superpowers and how to maximize yours as a thought leader

Learn how to tangibly bring your vision to life and achieve your big hairy dreams through daily practice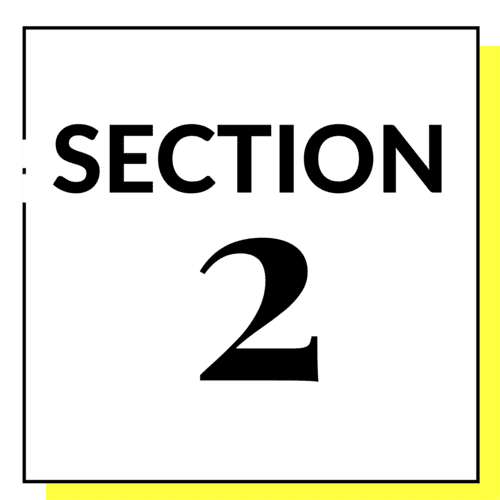 Thought Leader Messaging
Build your expert authority. 
Identify how and where great leaders bring their message to life so you can emulate their approach. Using SimplyBe.'s foundational trademarked framework, The Hologram®, we'll teach you how to cut through the noise with your personal brand statement and brand story, rallying, galvanizing, and inspiring your masses. 
In this module you will:
Fully identify how you are currently being perceived (both externally and internally) and how to fill the gap of what you're known for versus what you

want

to be known for

Craft your unique personal brand message, which will serve as the foundation for all future communications, content and perceptions

Study how this comes to life through lived examples of thought leaders today for tangible application
Your Public Image
Scale, scale, scale.
There's no denying it—an effective personal brand strategy must include managing your public profile and image. We'll walk you through the powerful expert approach that we've used with countless thought leaders inside our agency to empower you with the tools to become your own PR expert and increase your credibility and visibility. 
In this module you will:
Master the unique PR landscape that every leader and every brand is up against today

Learn SimplyBe.'s unique approach to PR,

External Outreach,

 and how to find the right opportunities for you 

Access expert pitching secrets to own and hone the narrative of your public image—with an expert personal brand, YOU tell the story
Your Original Content Strategy
Start creating original content. 
Your content will serve as a key driver for your business objectives. In this module, we'll introduce you to another SimplyBe. original, The Pinnacle Content Framework™, which will help you create endless content that's on brand and grounded in your original purpose and vision. 
In this module you will:
Identify the original content mediums that are right for you and your target audiences

Build a tangible, organized, original content plan to develop your thought leader platform

Map your marketing strategy to your business strategy through our framework, "The Personal Brand Spectrum™"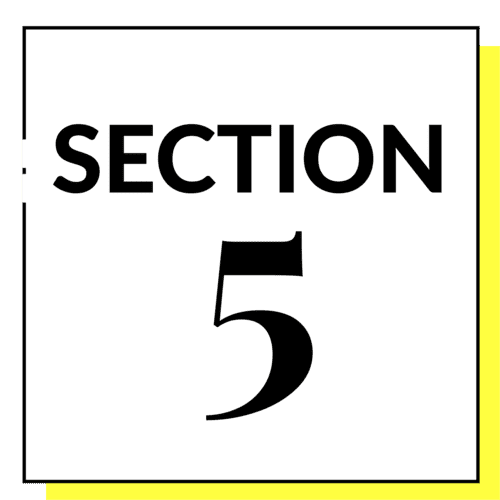 Authentic Leadership + Implementation
Live your brand.
It's one thing to create a brand, but another to bring it to life, day in and day out, online, offline, into the world, as you build a reputation as a leader. We won't leave you hanging. We'll help you build your own 12-month roadmap that will keep you motivated and accountable.
In this module you will:
Design your tangible, 1-year execution plan, broken down by weeks, months and quarters, and provide you with milestones to hold you accountable

Learn SimplyBe.'s culture-building secrets that will transform your team into your brand ambassadors

Access a series of actionable tools to live out your new brand in total alignment with your vision, mission, message and value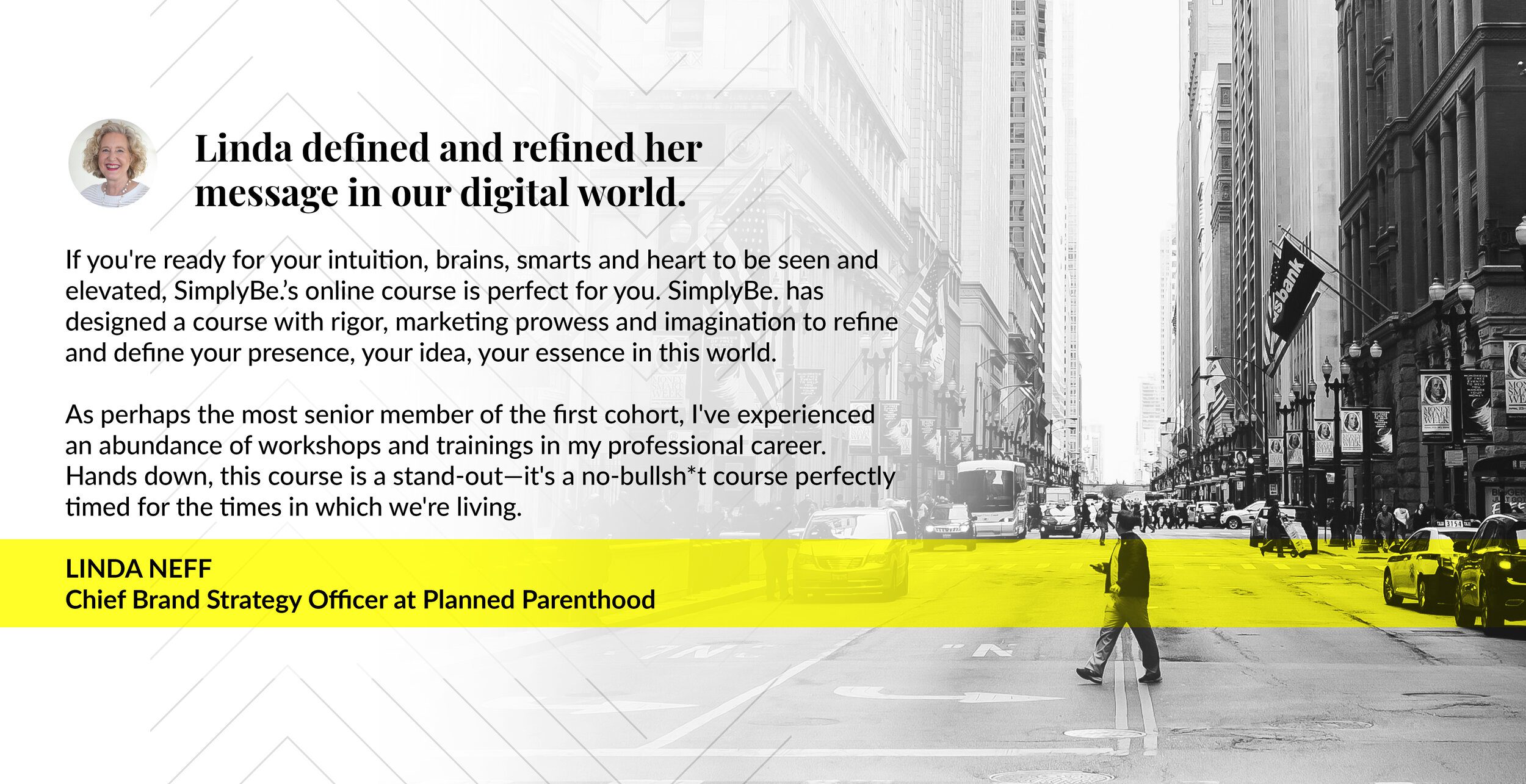 Build Your Personal Brand Statement and Strategy will give you all the tools you need to maximize your presence and unlock exponential revenue, connections, opportunities, talent and brand awareness.
But the real work begins when you close your laptop and walk out into the world with the consciousness and understanding of what an honor and privilege it is to be a thought leader. 
And with this newfound vision, personal brand statement, public image, personal brand strategy and your rollout roadmap, you will be fully equipped to simply be the change we need in this world.