The Challenge:
As the founder of Three Sisters Clinical Counseling, Lisa Ann Butcher was already quite literally changing lives… But her tailored therapeutic approach and unique expertise was only known amongst her immediate circle.
With ambitions to transform lives on a larger scale through her core clinical counseling services and keynote speaking, she came to SimplyBe. seeking a strategy to define her value proposition and position herself as an industry leader and example both for healthcare workers and working mothers alike.
The Solution:
SimplyBe. built Lisa Ann's refreshed brand identity and story—one intended to create real change around mental health and wellness in the healthcare industry.
Our team also constructed her unique brand strategy with her key objectives in mind:
A bespoke video strategy to showcase her expertise as a knowledgeable speaker and storyteller
An email newsletter strategy to connect directly to her desired audiences to provide tools and promote change within the healthcare industry
A tactical PR strategy to reach even more of her desired audiences and put her on the map as a speaker and go-to expert
A granular LinkedIn strategy to connect with fellow mental health professionals and healthcare workers to build brand awareness
A granular Instagram strategy to provide support and community for healthcare professionals as well as single and/or working mothers to heal and recover from work-related stress or trauma
Additionally, the SimplyBe. creative team created a full visual brand for Lisa Ann, showcasing this clinical counselor's new brand story with a bold yet welcoming presence. With her new brand story and visual identity in hand, she launched her brand new website to serve as a calling card to her business.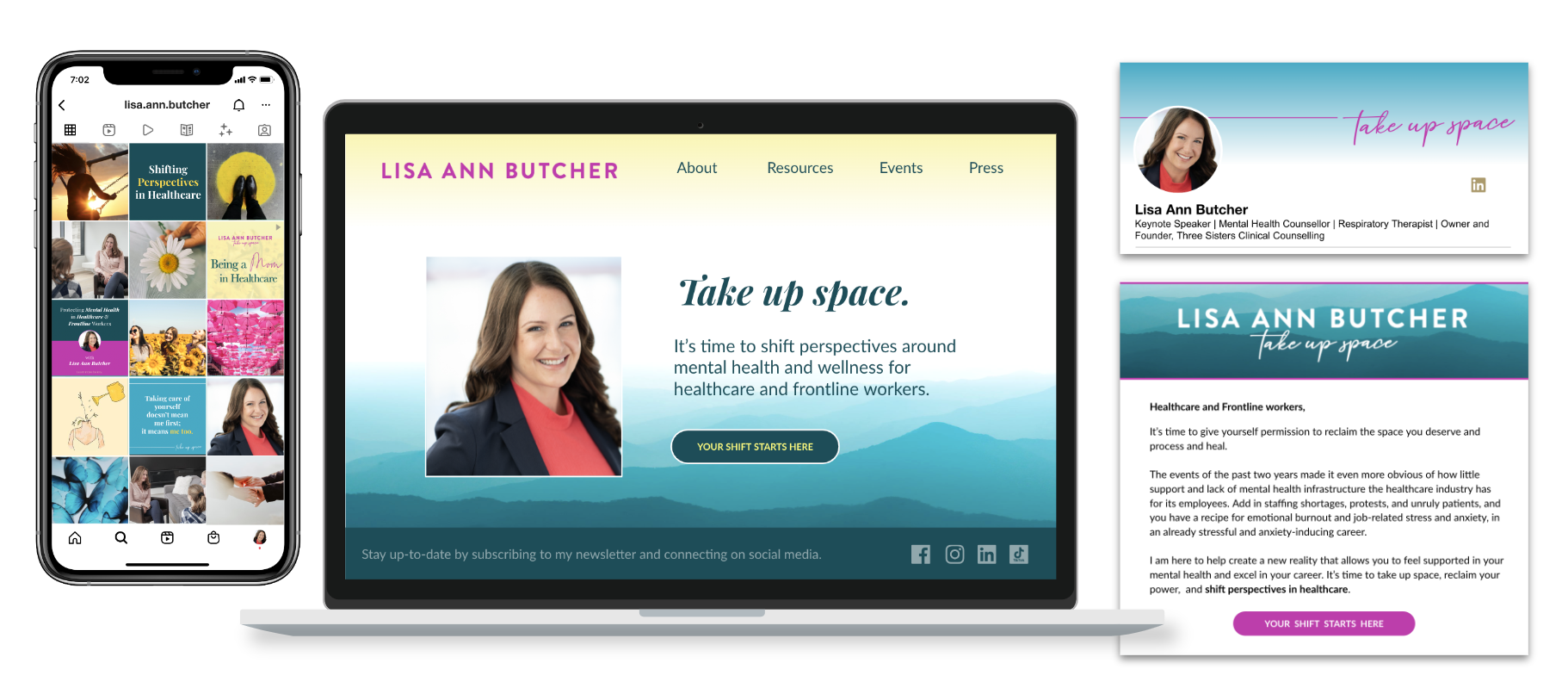 Her new brand identity and strategy have equipped Lisa Ann to launch her own website, giving her the platform to fulfill her mission.

Lisa Ann's defined brand identity and strategy catapulted her business to just shy of 7 figures in a few short years.
"As a single mom who transformed her life at 40, the opportunities that have been created because of my work with your team in Chicago have been priceless."
Lisa Ann Butcher, MACP, RCC, BPEH, RT, Owner and Clinical Director of Three Sisters Clinical Counselling
See Lisa Ann's custom visual brand guidelines: