Resourcing the Visionary Woman
The Challenge:
For Kirstie Fleur, freedom is more than a right. Freedom is her purpose. It's the driving force behind her company Freedom Fleur, a social enterprise that uses ethically-made luxury clothing as an avenue to empower and reskill women. 
Beyond being a founder and a female entrepreneur, Kirstie is also a musician and a community-builder. With one big vision but multiple disparate parts in the market, she came to SimplyBe. eager to grow her platform and expand her businesses. She understood that her success—and her ability to attract investors—relied on her public presence as a leader in her respective spaces. 
Kirstie was in need of a personal brand that unified her message as a seasoned female entrepreneur and a strategy that would allow her to connect her various ventures into one cohesive and effective platform.
The Solution:
SimplyBe. built this female entrepreneur's personal brand identity with her objective of creating a cohesive, empowering, investor-worthy platform in mind. We then built a unique brand strategy to support it all:
A video podcast strategy to showcase her expertise as a businesswoman, sharing tangible business & life advice to her key audiences
An email newsletter and microblog strategy to create an even stronger and direct connection with her desired audiences
A tactical PR strategy with a focus on podcast interviews and speaking opportunities
Instagram, TikTok, and YouTube strategies to amplify her video podcast content across key social channels and meet her audiences where they are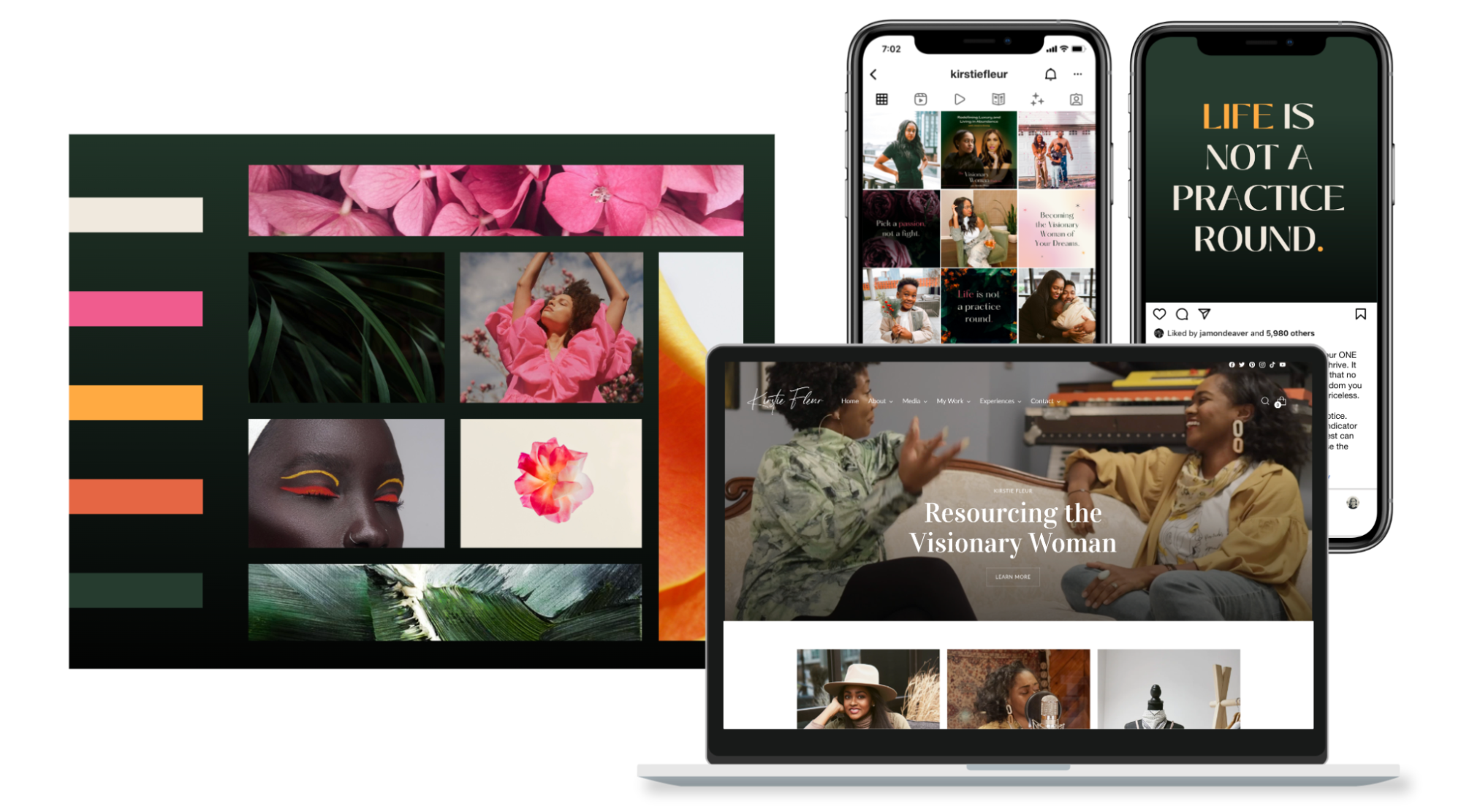 With her new brand identity and strategy in hand, Kirstie relaunched her personal website, presenting a unified message and value proposition to the market.

With clear direction and objectives, Kirstie launched her original podcast, The Visionary Woman, inspiring female entrepreneurs everywhere to dream, create, and build their businesses.
"Working with SimplyBe. on my Thought Leader Strategy was a game-changer for my brand and business. My team and I were already doing some work on our branding, but we knew we needed a cohesive narrative and a clear online presence. SimplyBe. helped us tell our story, create a website, and break down our multifaceted identity without losing or watering down any part of it. Their in-person day was incredible, and their team felt like family.
One standout aspect was their ability to help us plan for the future. They guided us through a three-year strategy with clear milestones, making it easy for my team to implement. If you're ready to put in the work, SimplyBe. provides a wealth of information that can propel your brand forward. I'm incredibly grateful to the entire SimplyBe. team. I would highly recommend their services to anyone looking to strengthen their brand and narrative."
Kirstie Fleur, Founder, Freedom Fleur