The Challenge:
Scott Curran, the Founder and CEO of Beyond Advisers, an innovative social impact consultancy based in Chicago, IL, came to SimplyBe. for a strategy to grow national brand awareness to his firm. 
As a leading visionary with a notable career, Scott recognized the necessity of intentionally and proactively communicating his authentic message in service of expanding his firm's reach and recognition.
The Solution:
Humble but ambitious, Scott Curran is steadfast in making scalable change simpler to implement through his reliable resources and vibrant personality. 
With the goal of bolstering his message in service of revolutionizing the modern approach to social impact for both nonprofit and for-profit organizations, we partnered with Scott to crystallize, communicate, and execute his unique brand identity and comprehensive strategy in service of growing his national brand awareness and Beyond Advisers at large.
Our work with Scott has included:
A unique and clear brand identity to clearly and consistently articulate his value and robust experience
A granular LinkedIn strategy to amplify Scott's thought leadership, connect with his target audiences, and grow his digital footprint
A new personal brand website to scale his and Beyond Adviser's reach, and strategically position him for key opportunities
A visual brand identity to encompass and inform all brand outputs inclusive of his social media communications and his new website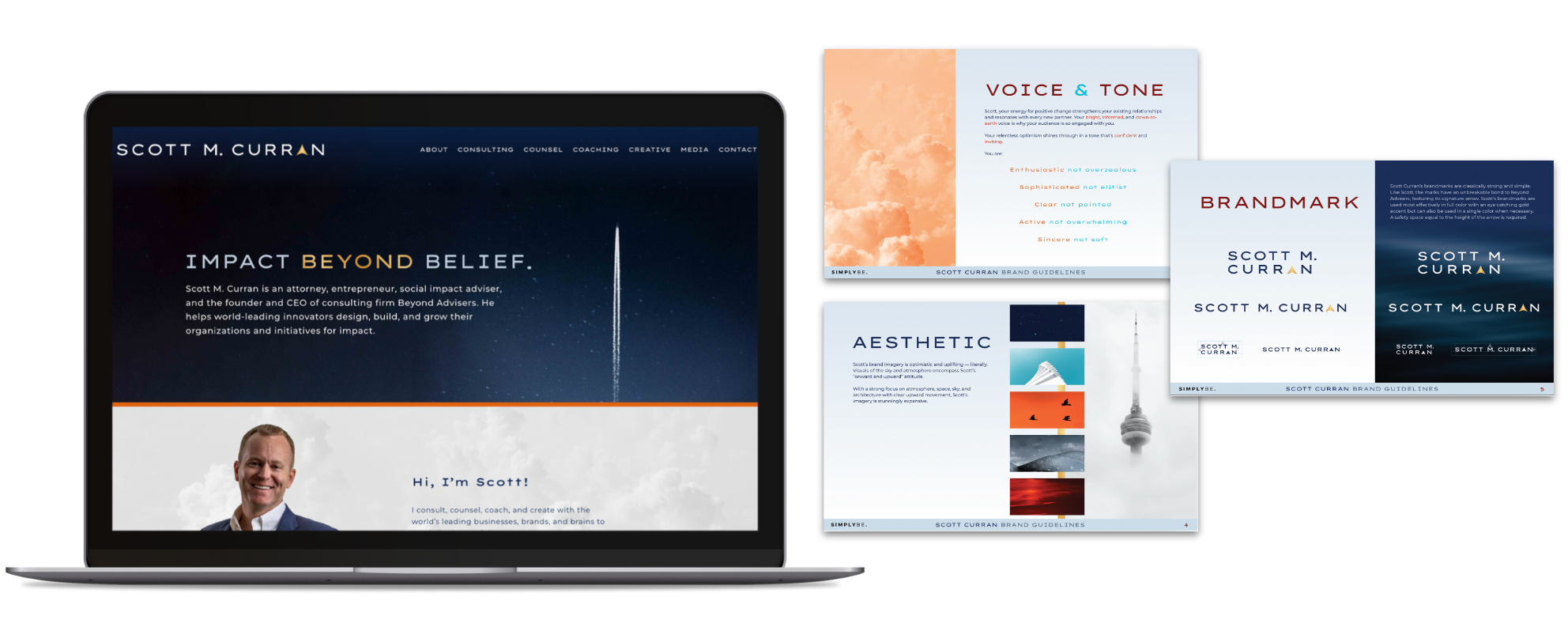 Scott's new platform and thought leadership has garnered recognition at key industry events.

With his new brand identity in hand, Scott is able to clearly and consistently communicate his value to the market and attract ideal clients. 
"Very grateful to the entire SimplyBe. team for taking me on a journey about which I was deeply uncomfortable. Thank you for the support, encouragement, and enthusiasm to help me look at this entire space and journey differently! Not only has the advice in Jessica Zweig's book resonated at every turn, the team has really been spectacular in being patient when helpful and encouraging (if not pushing) me when required! Much obliged, Team SimplyBe!"
Scott M. Curran, Founder & CEO, Beyond Advisers
See Scott's full custom visual brand guidelines: