The Challenge:
Heather Dubrow had built her platform as an actress, author, and, most publicly, as a star on The Real Housewives of Orange County. The public platform that comes with reality TV led to a narrower worldview of Heather's persona and value. Considering her current positioning in the market, Heather came to SimplyBe. with bigger aspirations of being a leader and an example of unfiltered parenthood.
The Solution:
Our goal was to equip Heather with the tools to become a recognized public figure on parenthood and motherhood. Leading with her "nothing is off limits" approach to conversations, our team honed her story, refined and defined her personal brand identity, and created a tactical strategy to bring it to market. We set out to transform Heather into a magnet to new, ideal opportunities and create impact with women everywhere. Her strategy included:
A refined approach to her podcast to include more strategic conversations and guests to assist in shifting the public's perception of Heather
A new weekly email newsletter to connect deeper with her true fans in a more intimate setting—their inbox.
Tactical optimizations across YouTube, Facebook, Instagram, and TikTok guiding Heather to show up more frequently and more consistently with her evolved brand message
A personal brand website to serve as the central hub for it all—a website would enhance Heather's credibility and better establish her as a holistic lifestyle brand.
To further refine Heather Dubrow as "more than a housewife," our team created a striking and modern visual brand for her through a custom style guide. With the goal of evolving her brand perception as a national lifestyle and parenting expert, we aimed to create visuals that exuded the approachability of Heather's personality, voice, and tone while maintaining her signature sophistication.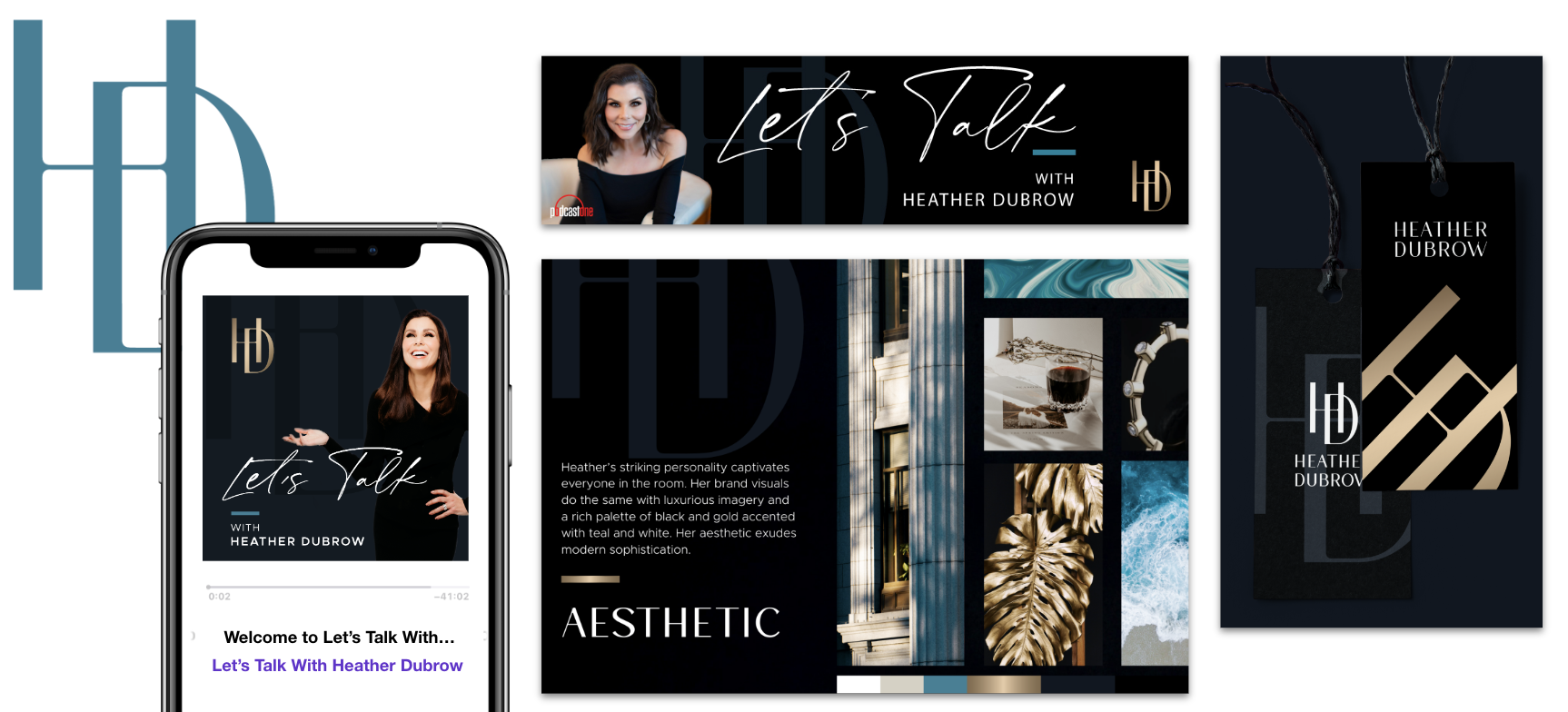 Heather rebranded and relaunched her podcast from Heather Dubrow's World to Let's Talk with Heather Dubrow, with a crystal clear content strategy supporting her new brand message.

Following our rollout and promotion strategy, Heather's launched her "Let's Talk" email newsletter, paving the way for her intentional narrative on modern parenting.
"I want to thank the whole team for the INCREDIBLE job on my brand strategy. You are all so amazing and talented and it's been a pleasure to work with all of you! One of the highlights was our day together in Chicago. It was truly a turning point for me and I will treasure my time with all of you!"
Heather Dubrow, Actor, Author, Public Figure
See Heather's full custom visual brand guidelines: