The Segelovian Perspective
The Challenge:
Mark Segelov, UK-based tech entrepreneur and co-founder of the fast-growing company 1 Cyber Valley, among other ventures, came to SimplyBe. with little to no presence in the market beyond his internal small circles. Building Mark's personal brand platform was essential in order to achieve 1 Cyber Valley's ambitious growth goals, and it was time to transform him into a public face of the company.
The Solution:
Inspired by constant innovation, Mark Segelov is using his unique line of sight as a leader to optimize technology, relationships, and sustainability for social good. Our team crafted this tech entrepreneur's unique message and go-to-market strategy, giving Mark a comprehensive playbook to elevate his reputation in the market, leading to an increase in pipeline generation. His playbook included:
A bespoke video strategy to showcase Mark's expertise, scale his reach, and strategically position him for future speaking opportunities as a knowledgeable speaker and storyteller
A monthly blogging strategy to educate his audience on his array of expertise, build his long-term digital footprint and thought leadership credibility, and drive traffic to his website
A tactical PR strategy inclusive of podcast interviews and speaking opportunities to reach his desired audiences and put him on the map as a speaker and thought leader
Granular LinkedIn, TikTok, and YouTube strategies to amplify Mark's content, connect with his target audiences, and grow his digital footprint
Additionally, the SimplyBe. creative team created a full visual brand for Mark, showcasing this tech entrepreneur's playful, modern, and refreshing new brand story with an unconventional presence. With his new brand story and visual identity in hand, he launched his brand new website to serve as a calling card to his business and open the doors to inbound opportunity.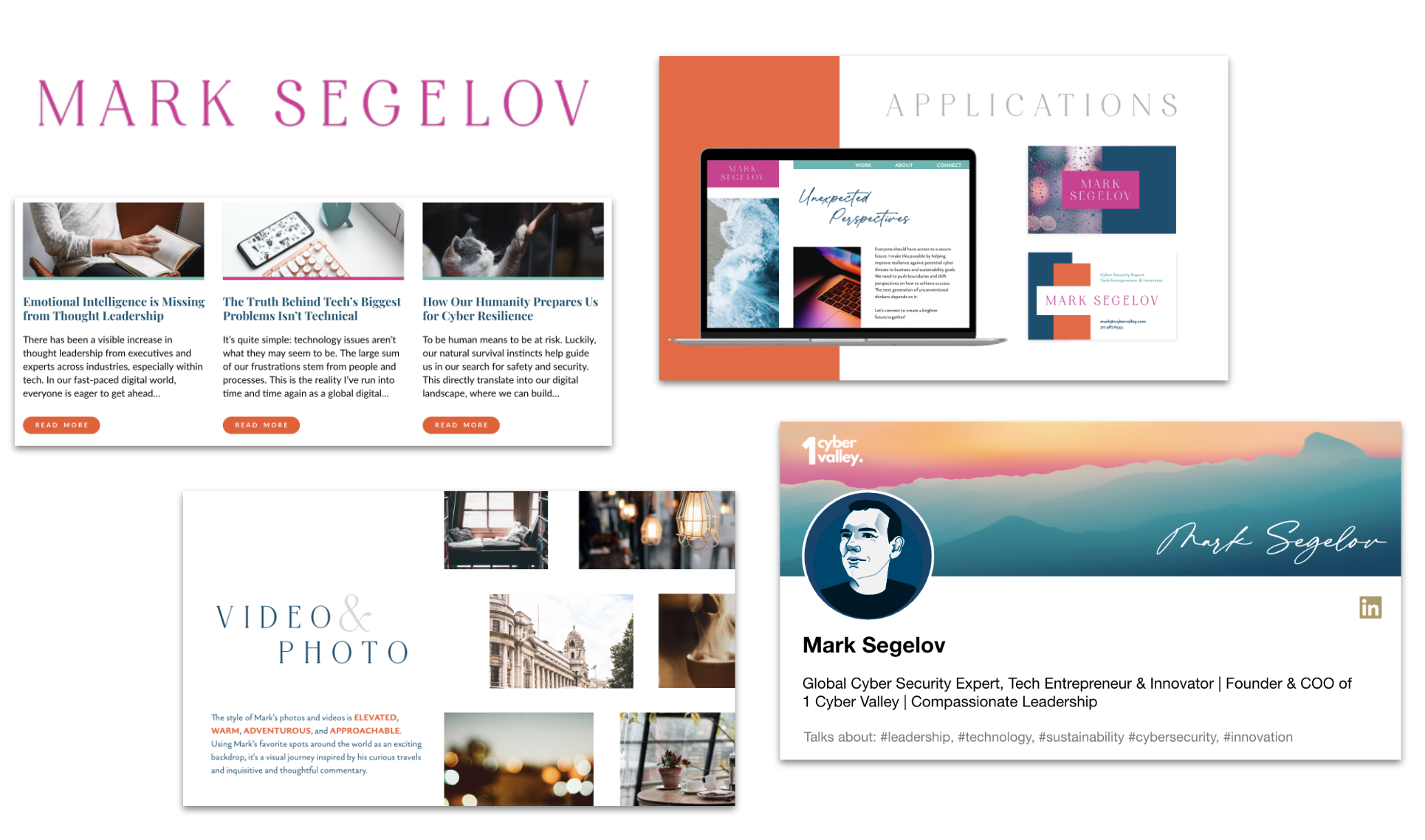 His new brand identity and strategy have equipped Mark Segelov to launch his own website and tell his story proudly in the market to fuel his pipeline and inspire the next generation of unconventional thinkers.
"It is more than I could ever envisage going into this journey. To say I have a lot to think about and do is an understatement. You know me better than I do now!"
Mark Segelov, Founder, 1 Cyber Valley
See Mark's full custom visual brand guidelines: