Motivating the Masses by Overcoming Ordinary Obstacles
The Challenge:
Nesha Pai is the Founder and Managing Member of Pai CPA, a successful accounting firm dedicated to bringing businesses the freedom to deliver to their clients with customized financial strategies. 
Ready for her next chapter as an author and keynote speaker, Nesha came to SimplyBe. with the goal of stepping away from the day-to-day of her business in service of motivating the masses through speaking and PR. 
In order to do so effectively, she needed a platform that stood on its own—she didn't exist online without her business. With her lived experience influencing her passion and wisdom, it was time for her to tell her unique story as a true business expert beyond her CPA experience. 
The Solution:
With a passion for numbers and a heart for courageous business, this founder and speaker needed a platform to support and legitimize her launch into the market. SimplyBe. defined Nesha's custom brand identity, built an optimized Instagram strategy, and created key foundational visual elements for her new brand. With a blend of new and old, our team built a platform that stands on its own while also living in harmony with her thriving business. 
Nesha's new brand identity has informed her new website, her social media content, and her entire platform as an author and sought after speaker.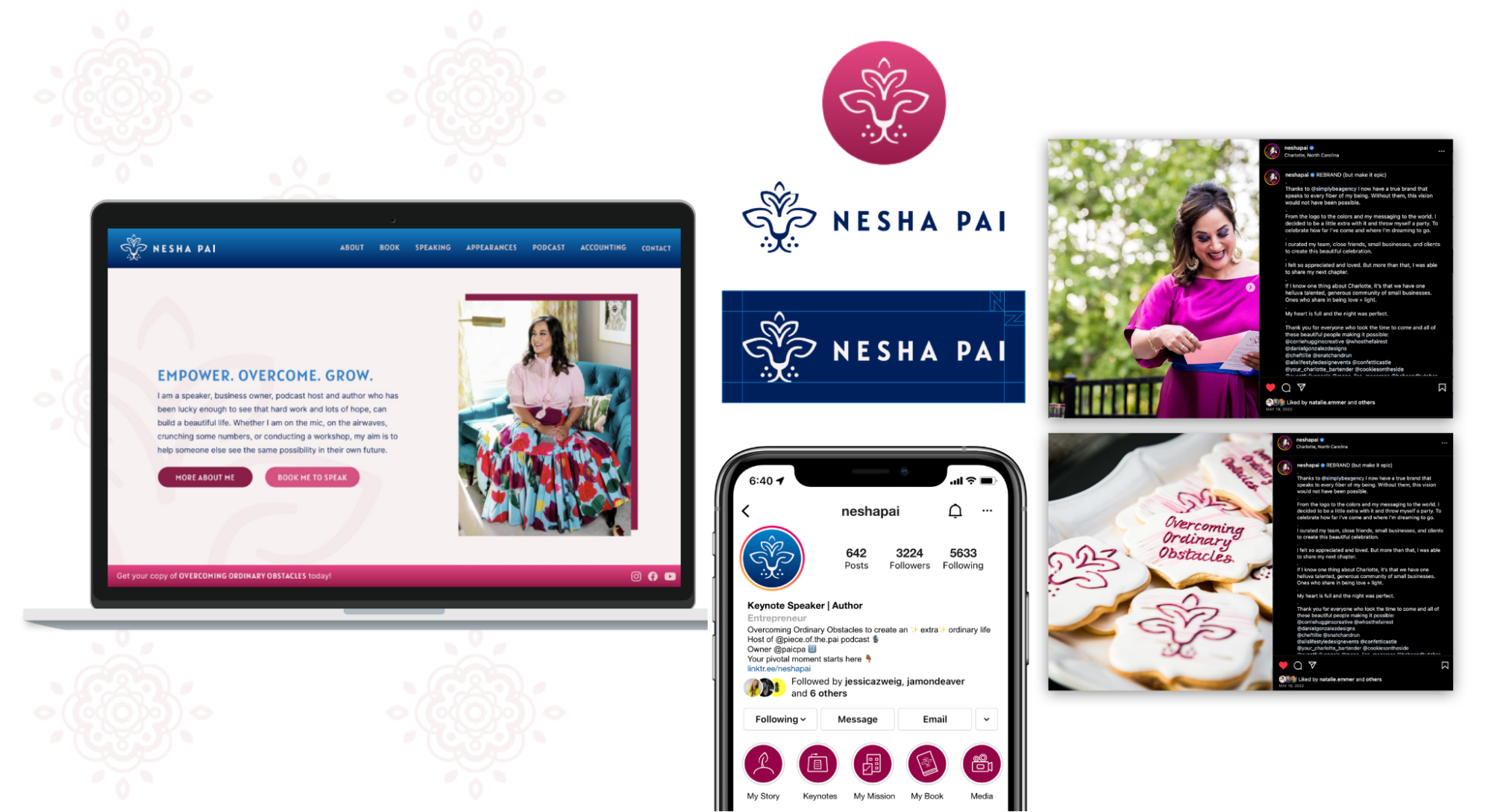 Since the launch of her brand and platform, Nesha has secured international speaking and interview opportunities utilizing SimplyBe.'s custom pitch.

By empowering her with the language of her expertise and the value she provides, Nesha launched her new platform with clarity and confidence.
"My life—professionally and personally—has skyrocketed since my personal rebrand. My company has grown exponentially and I am getting noticed internationally as a thought leader and speaker. I cannot explain the depth of love I have for myself and what I will no longer accept in my life."
Nesha Pai, CPA, Founder & Speaker
Click below to view Nesha's custom visual brand guidelines: